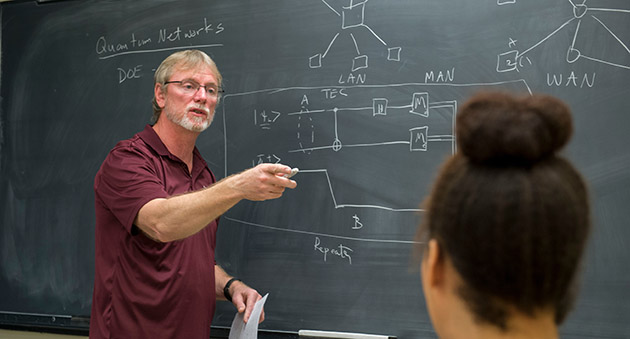 Mark Byrd
Professor
Office: Neckers 477
Mailcode: 4401
Phone: 618-453-2271
Fax: 618-453-1056
E-mail: mbyrd@siu.edu
Mark Byrd is a professor of  physics specializing in Theoretical Quantum Computation and Quantum Error Correction. He received his PhD from The University of Texas Austin in 1999. He has been at SIU since 2003. Please visit his personal webpage for more information.  Dr. Byrd is a member of the Quantum Computing Group at SIU, and maintains the Qunet Quantum Information and Computation wiki.
Office Hours, Spring 2023
T, W, Th, 9:30am - 11:30am and by appointment.
Courses taught here are:
PHYS 100
PHYS 205A
PHYS 205B
PHYS 205C
PHYS 430
PHYS 440
PHYS 500A
PHYS 520A
PHYS 520B
PHYS 530
PHYS 530B
PHYS 253/255B
PHYS 255C