Thushari Jayasekera
Assistant Professor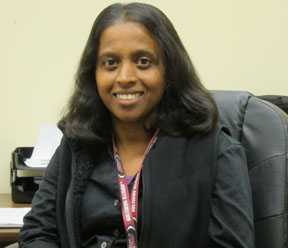 Fall 2017 Office Hours:
Phone: 618-453-1055 (Office)
Fax: 618-453-1056
Office: Neckers Room 487
Email: thushari@siu.edu
Career History:
Dr. Jayasekera joined the Department in the Fall of 2011. She graduated with a Ph.D. from the University of Oklahoma, with Prof. Kieran Mullen and Prof. Michael A. Morrison. She did her postdoctoral work with Prof. J. W. Mintmire at Oklahoma State University, and with Prof. M. Boungiorno Nardelli and Prof.  K. W. Kim at North Carolina State University.
Research:
Dr. Jayasekera's research expertise/interests are in engineering electron structure, electron transport and heat transport in low-dimensional nanostructures for device applications. Most of her recent work are based on ab-initio calculations. Her current/recent work involves electronic band engineering of graphene related systems, and investigating thermal transport in oxide based nanostructures for thremoelectric applications.