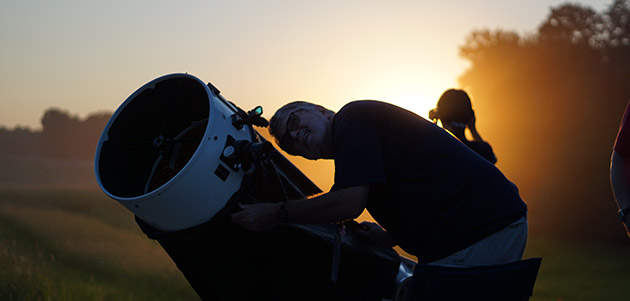 Public Astronomy Observations
Observation Schedule 2022
---
Public observations return to SIU Carbondale starting with the May 15, 2022 Total Lunar Eclipse!
Total Lunar Eclipse at SIU Carbondale
Location: Saluki Stadium

(pdf version)

Public Astronomy Observation for the May 15, 2022 Total Lunar Eclipse at SIU Carbondale.

Join SIU Carbondale, the Astronomical Association of Southern Illinois, and the Southern Illinois Science Center to experience a Total Lunar Eclipse on Sunday, May 15, 2022 at Saluki Stadium on the SIU campus. This free event will include guided telescope observations, science activities, videos, and movies on the stadium big screen. The south stadium gates will open to the public at 7:30pm with events starting at 8pm and continuing through midnight. Free event parking will be available at the Banterra Center (SIU Arena) parking lot, #18.

This total lunar eclipse occurs over the eastern half of the US starting with first contact at 9:28 pm. Totality happens at 10:29pm and goes on until just before midnight. During the eclipse, you will see the Moon go from full though partial phases, and finally turn a red - orange color during totality. This sunset color is determined by light refracting through the atmosphere of the earth and illuminating the Moon.

Visitors are encouraged to bring blankets or lawn chairs. Limited concessions will be available for sale. Telescopes will be setup on the field for public viewing. Visitors are allowed to bring their own scopes or photography equipment, but please no sharpened or spiked tripod legs or other equipment that may damage the field's turf.

For questions or more information, contact University Events at: (618)-453-7424 or email eclipse@siu.edu.
Observation Deck and Telescopes

The observation deck is 624 square feet in size. It is built out of 2" thick rubber matting for vibration isolation. The primary telescope is a 14" Meade LX600. This computer guided telescope is used for all observation events as well as the lab portion of PHYS 103 (Astronomy). Several additional scopes are setup for observations as needed including Celestron 8" SCTs, a Coronado SolarMax II, and a Stellarvue SV105 Raptor (105mm refractor).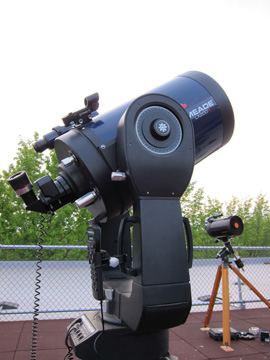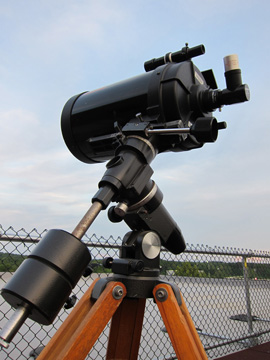 ---
What Can You See?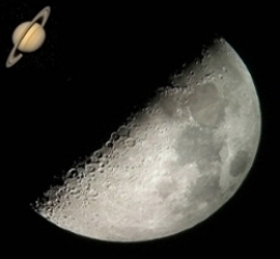 The most spectacular viewing is of the Moon and major planets such as Jupiter, Saturn, Venus and Mars. On clear nights, you can easily see the rings of Saturn and detailed striations on Jupiter. Brighter objects such as the Great Orion Nebula, the Andromeda Galaxy and several clusters are also visible visually.
Dimmer deep sky objects are typically only visible during evenings with low humidity and not much cloud cover. On select night, deep sky cameras are utilized to display images of objects otherwise not visible though visual observations.
---
Previous Event Photos
Mars Opposition Star Party 2018. Star party at the SIU Farms for the Mars Opposition.  See photos of the event on Bob Baer's Flickr photo stream.
Eclipse 2017 at SIU Carbondale.  Southern Illinois University Carbondale hosted 30,000+ visitors to campus August 18 - 21, 2017 for four days of eclipse theme events capped off by Eclipse Day at Saluki Stadium. If you missed this, you'll want to mark your calendars for the next total solar eclipse to pass through Carbondale on April 8, 2024.  Check out the photos at: eclipse.siu.edu