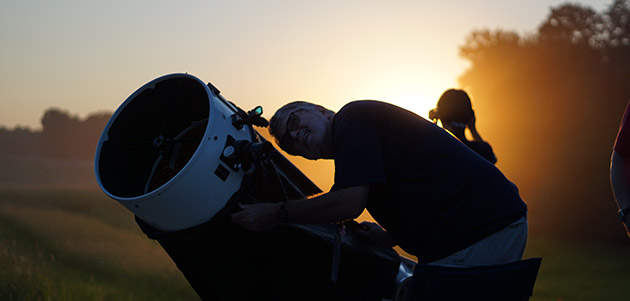 Public Astronomy Observations
NOTE: All public astronomy observations this semester are cancelled due to COVID-19.
Observation Schedule 2020
---
Fall 2020 - Public Observations at Neckers
All observations are cancelled due to COVID-19.
Observation Deck and Telescopes

The observation deck is 624 square feet in size. It is built out of 2" thick rubber matting for vibration isolation. The primary telescope is a 14" Meade LX600. This computer guided telescope is used for all observation events as well as the lab portion of PHYS 103 (Astronomy). Several additional scopes are setup for observations as needed including Celestron 8" SCTs, a Coronado SolarMax II, and a Stellarvue SV105 Raptor (105mm refractor).
---
What Can You See?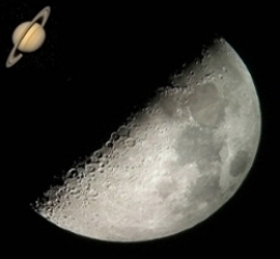 The most spectacular viewing is of the Moon and major planets such as Jupiter, Saturn, Venus and Mars. On clear nights, you can easily see the rings of Saturn and detailed striations on Jupiter. Brighter objects such as the Great Orion Nebula, the Andromeda Galaxy and several clusters are also visible visually.
Dimmer deep sky objects are typically only visible during evenings with low humidity and not much cloud cover. On select night, deep sky cameras are utilized to display images of objects otherwise not visible though visual observations.
---
Previous Event Photos
Mars Opposition Star Party 2018. Star party at the SIU Farms for the Mars Opposition.  See photos of the event on Bob Baer's Flickr photo stream.
Eclipse 2017 at SIU Carbondale.  Southern Illinois University Carbondale hosted 30,000+ visitors to campus August 18 - 21, 2017 for four days of eclipse themed events capped off by Eclipse Day at Saluki Stadium. If you missed this, you'll want to mark your calendars for the next total solar eclipse to pass through Carbondale on April 8, 2024.  Check out the photos at: eclipse.siu.edu
June 5, 4:00pm - 10:30 pm. Special daytime solar observation - Transit of Venus. If you missed the transit, you can see photos of the event here. Special thanks to the Astronomical Association of Southern Illinois as well as all the people who turned out and helped out on the day of the event.